Tank Men
Tank Men

The Human Story of Tanks at War

Tank Men is a turret-eye perspective of what it was like to fight from tanks from their sudden appearance in 1916 to the end of the Second World War. British, German, Russian, French, American and Italian tank crews describe the emotional and physical consequences that stemmed from the technological tanks arms race that occurred during this period.
The book describes what it is like to be inside a tank at war, a tight metal box, from which little can be seen to lighten an all-pervasive claustrophobia heightened by the fear of burning. Human senses are dulled by restricted vision, the reek of petroleum and oil, deafened by engine and track noise, tasting a gritty residue of dust and exhaust fumes. Hot spots have to be avoided as also potentially dangerous moving mechanical parts. Tank designers were obsessed with maximising technical gun, armour and mobility improvements. Human requirements and comforts were compromised to favour combat effectiveness.
Specific chapters cover a typical day of tank combat during the various tank campaigns of the Second World War. What it was like during the Blitzkrieg campaigns in Poland, France and Russia, the Western Desert, Kursk and the Normandy Bocage. Oral accounts are juxtaposed against letter and diary observations to expose the grim reality of tank warfare.
This is a human story that describes the emotional bonding that occurred between crew members, from where they were recruited and why they chose to fight in tanks. Countless small stories are told from a multi-national perspective, describing the experiences of the primary tank protagonists that fought the war. Fear of burning was all pervasive. There were only five to eight seconds available to flee a burning tank compartment rearranged by the wreckage of an in-coming shell, before the oxygen was sucked out by the flames or it exploded.
The First World War experience revealed that crew combat endurance was fundamentally limited by fumes, heat, enemy artillery and the buffeting ride with no suspension. By the Second World War Britain had lost her tank lead and operated in the shadow of German, Russian and American developments throughout. The Germans were the first to master the man/machine interface, electing to construct technically excellent and highly effective tanks. The Allies opposed technical excellence with the mass production of inferior tank types, coldly and rationally electing to accept the high loss of life that comes from any unequal battle of attrition.
Drawing upon vivid, newly researched personal testimonies from the crucial battles of the First and Second World Wars Tank Men illustrates the brutal and often moving story of tank crews at war.
Background & Preparation
Sheila Watson, a wonderful lady and my first agent retired at the point I left the Army, when I had decided to write full-time. After deciding to go it alone without an agent I was introduced to Charlie Viney. He persuaded me to write Tank Men for Hodder and Stoughton and I am glad he did. It was a departure from previous books about battles and campaigns but I was intrigued to do something different and more fully immerse myself in the human stories I had earlier populated my battle narratives with. Like the Army it was a challenge, out of the ordinary, and Charlie, who became my new agent fed in effective and constructive advice on content and style. I was unused to frank editorial appraisal and it did me little harm.
David Willey the Curator at the Bovington Tank museum and his staff were very supportive, allowing me to mount and crawl inside all tanks of any historical consequence, to develop the 'feel'. An overland ride in a Sherman tank reminded me of the claustrophobia, limited vision, smells, noise and discomfort of being buffeted around by a tank moving at speed – as well as the need to dodge moving machine parts and not touch the hot spots.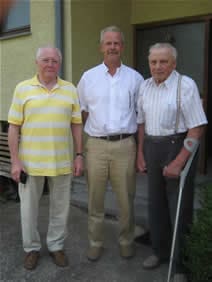 There was a need to interview a batch of foreign tank veterans to supplement the high quality British personal accounts I was finding found in the Bovington Museum and Leeds Second World War Experience Centre archives. After advertising in Germany I was contacted by Ludwig Bauer, a panzer veteran and Knight's Cross holder. He had fought panzers from the invasion of Russia in 1941 through the Normandy Bocage in 1944 to Germany in 1945, and was knocked out nine times. Visiting him near Stuttgart, he introduced me to an Afrika Korps Knight's Cross holder panzer veteran. Both regaled me with amazing stories, as also a number of veterans who communicated by post.
A serious short fall was material from Russian tank veterans. Although fluent in German, most of my Russian material had come from German translations. The Military Academy at Sandhurst came to the rescue, asking if I could speak on a battlefield tour to Moscow, Stalingrad and Kursk in 2006. This proved a saviour. During the tour I was introduced to Vladimir Alexeev and Anatoly Kotzov, Russian veterans who had fought from Stalingrad through Kursk to Berlin. The problem of identifying the uniquely Soviet perspective was solved with the aid of some truly generous Russian interpreters over vodka and beer during long interviews on several overland night trains.
My military background was airborne not tanks, but I did have my panzer experience with the Bundeswehr, service as an anti-tank platoon commander in the British Army of the Rhine and the first Gulf War to fall back upon. It was a privilege to converse with British and foreign veterans ever ready to share some of their most sensitive and often sad moments, and brutalising experiences, with a total stranger. The best way of marshalling this very human yet disjointed material was to place it in the context of the technological arms race that occurred between 1916 to 1945, and reflect on their individual roles within it.
Gathering material for Tank Men was a fascinating and often humbling experience.
Sir John Keegan April 2008.
'It was far too realistic for comfort and I was grasped by it…
I greatly admire it as a book and consider it to be a highly original and valuable piece of military history. It ought to transform our idea of the Second World War, it has mine.'